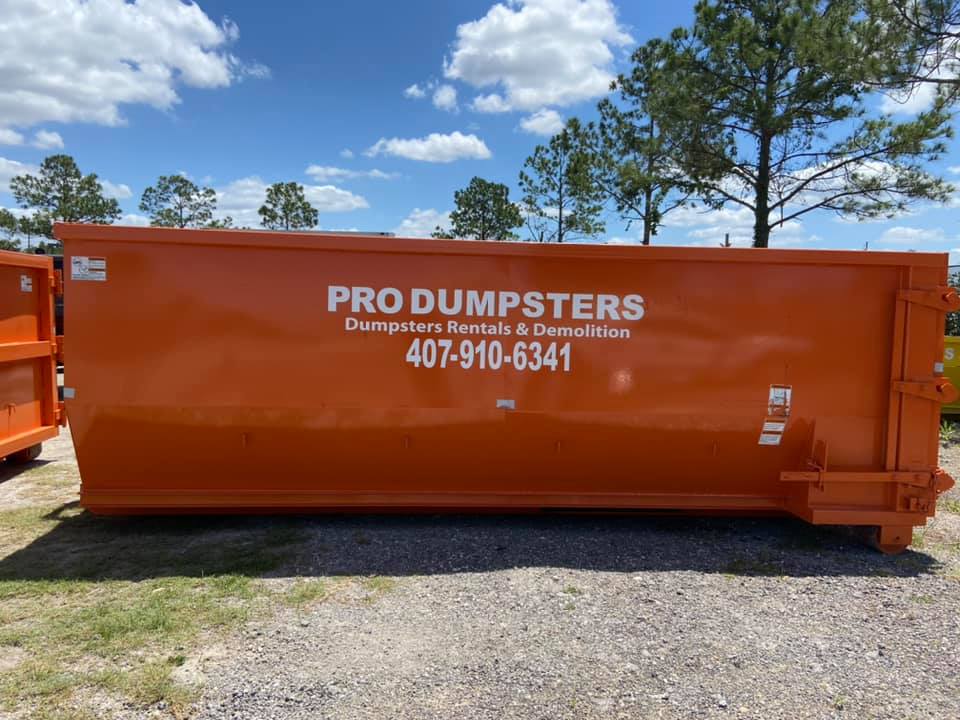 Pro Dumpsters & Junk Removal are the best around! We are driven by customer satisfaction and a job well done, making us more motivated and excited about our work than other Dumpster Rental & Junk Removal companies. Our team prioritizes superior customer service and goes above and beyond for each person who books with us. Its our goal to make sure you have a convenient, productive, and pleasant rental or junk removal experience. And we make it happen! Our work doesn't stop when we load your junk into our truck. We'll even sweep up any mess that's left behind and sort your junk items. We sort items to limit the amount of junk we take to landfills. Finding recyclables and donation items makes this goal possible. Same/Next Day Service, Want something gone fast? One of the perks of booking with us is how quickly we can get out to you. You can be junk-free within 24 hours! On-Time Arrival You'll be able to pick an arrival window that works with your schedule. We'll always arrive during that time frame. Call Today at 407-910-6341
Great Tips on How to Rent a Dumpster
What do you know about renting a dumpster? Well, if you're in the commercial, industrial or construction industry, the answer is probably quite a lot. In fact, you could probably write a whole blog on the subject.

But if you're like most people, the need to rent a dumpster comes up only a few times in a lifetime. That probably means you could write a caption about it. Something such as, I haven't a clue about renting a dumpster.

Personally, I've rented a dumpster exactly two times. Ironically they were simultaneous; as one was in order to dump all the stuff I should have years earlier right before a move. Since we were building our own home at the same time, I needed a second dumpster at the construction site.

While it is a rarity, knowing the ins and outs of dumpsters can make the rental process a little less intimidating and quite possibly save you money. After all, why spend $600 when you only need to spend $300?

When I made my dumpster rental decisions, my life was in a state of chaos. Trying to pack up the stuff from the old house, getting the new house in living condition and transporting the kids on a long commute to and from their new school, so as to not disrupt their school year by making a switch halfway through, was about all I could handle.

Suffice it to say that renting the right dumpster for the job(s) was not on my agenda. I called, I ordered, I paid. And boy did I pay too much! I ordered two 20 yard dumpsters which ended up being way more that I needed for the cleanout and way less than I needed for the construction site!

Learn from my mistakes and do a little homework before you decide on what dumpster to rent. Here are a few of my suggestions to take into account before you order your next dumpster.
Dumpster Rental 101
It is the Size that Counts!
The first thing you need to do before renting a dumpster is to determine what size you'll need. One of the biggest mistakes people make is ordering the wrong size. As I shared before, the 20 yard dumpster I rented for cleanout was way too big for my purposes. Paying for a dumpster that is only half filled makes no sense.
Most dumpster rental companies offer a variety of dumpster sizes;
10 yard dumpsters are good for those small remodeling projects or medium sized cleanouts such as a deck under 300 square feet or shingle roof removal under 1,500 square feet. They hold 10 cubic yards of material which translates into around 3 pickup trucks full of debris.
15-20 yard dumpsters are for those medium sized remodeling projects or for major cleanouts such as carpet removal for a large home, shingle roof removal over 1,500 square feet or deck removal over 300 square feet. They hold 20 cubic yards of material which translates into around 6 pickup trucks full of debris.
30 yard dumpsters are generally used more for commercial purposes or for a major home addition or new construction. They hold 30 cubic yards of material which translates into around 9 pickup trucks full of debris.
What is the Nature of Your Trash?
Another consideration is the type of waste you will be generating. Many dumpster companies don't allow a mixture of materials. For example gravel and fill most likely cannot be combined with other materials. Also, depending on what you will be dumping, the weight just might be a factor. Heavier items will cost more to dump. The best way to determine your cost would be to consult with the dumpster company as to the exact nature of materials you will be disposing of.
Know What Not to Dump!
It is against the law to dispose of hazardous waste. Hazardous wastes include chemical products, oil filters, herbicides & pesticides, radioactive material, solvents, paint (except completely dried latex paint cans, no liquids), other flammable liquids, partially filled aerosol cans, propane tanks, motor oil, transmission oil/lubricating/hydraulic oil/, contaminated oils (mixed with solvents, gasoline, etc.), antifreeze, refrigerators, petroleum-contaminated soil/lead paint chips, tires, batteries, fluorescent tubes, railroad ties, medical waste, asbestos, dead animals, sealed barrels or cylinders, and all liquids.
Don't Do 'One-Stop' ... Comparison Shop!
Renting a dumpster can be a big expense and prices can greatly vary from one supplier to the next, so do your homework and get at least two quotes from dumpster rental companies. It's wise to inquire about added expenses such as; overage charges, tipping fees, late fees and fuel surcharges, so that you can have a true comparison.
Also, don't be too embarrassed to ask about special discount pricing. Some dumpster rental companies offer discounts of 10% or more to military personnel, seniors, veterans or members of certain organizations. More than likely you won't hear about them unless you ask!
Life is complicated enough ... so I simplified
There you have it, very basic steps to take when renting a dumpster. Obviously there is a lot more that you can learn about renting a dumpster, and I was able to find a ton of material and suggestions. But to be honest, unless you rent dumpsters on a regular basis (and if you do, you already know all you need to) this guide should work for you.
Pro Dumpsters, Inc. is a commercial waste management company serving all of Orlando and the surrounding area. If you liked this article, give us a shout out on Facebook and fill out the form below if you would like a quote for your next dumpster rental needs.